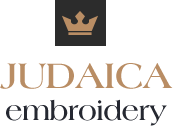 Our Tallit Bags are crafted with the finest quality velvets in a variety of colors and sizes. All tallit bags are lined and securely fastened with a zipper closure.
These tallit bags make a fabulous gift for a loved one. Add a personalization for this unique touch!

Tallit Bags
When not worn, the tallit, or prayer shawl is kept in a special bag, usually of richly embroidered velvet such as the tallit bags shown above. Artistically embroidered, the tallit bags often depict ritual references such as a Star of David, Keter (crown), or Lions & 10 Commandments. A personalization is typically embroidered in gold or silver thread matching the tallit bag design.

In addition to Tallit bags, our Judaica Embroidery collections include Torah covers & mantles, Parochet & Ark Curtains, Bima & Amud Covers and Bein Gavrahs - Flat Torah cover between readings.
Thinking of donating a silver Torah ornament? Be sure to check out our exquisite selection of sterling silver and silver plated Torah ornaments which includes Torah breastplates, Torah crowns, Rimonim and Yad Pointers.