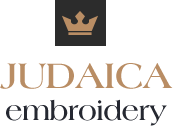 Our Torah Pointers - Yad are crafted with high quality workmanship available in sterling silver and/or silver plated. All silver Torah Pointers can be engraved with a customized dedication to commemorate or honor a loved. Coordinate with our matching Torah breastplates, Torah crowns and Rimonim to complete the look!
See complete sets of silver Torah ornaments here.
Need a Torah pointer expedited? Contact us now for immediate shipping.
Can't find the Yad / Torah Pointer you are looking for? Contact us now to check availability for a specific Torah pointer you are interested in; we might have it available!
All Torah pointers & silver Torah ornaments can be lacquered to maintain non-tarnishable. Contact us for an estimate.


Torah Pointer - Yad
Another form of of Torah ornamentation is the Torah Yad, usually suspended on a chain from the Torah staves, or atzei chaim. The Torah Yad, or pointer, is the Hebrew word for 'hand', as the pointer is usually in the shape of a hand with a pointing index finger. The yad is used to follow the text during the Torah reading, as to ensure that the parchment is not touched.
The Torah pointers are typically made for the most part of sterling silver or silver plated brass, often featuring ritual references and Hebrew verses from the Torah.
Donate a silver Torah pointer, or yad to your synagogue in memeory of a loved one by engraving a personal dedication to eternalize the memory forever.
Be sure to check out our Parochet & Ark Curtains, Torah covers & mantles, Bima & Amud Covers and Bein Gavras (flat Torah cover between readings) for an amazing selection!