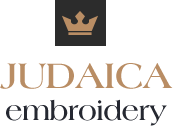 Related Products Reviews
Torah Rollers - Atzei Chaim TR

Received the rollers and they are beautiful. Thank you!

Received the rollers and they are beautiful. Thank you!
Torah Rollers - Atzei Chaim ECH25-55

Hi, I received the poles, they look beautiful.

Hi, I received the poles, they look beautiful.
Our Atzei Chaim - Torah Rollers are crafted in the finest renowned craftsmanships in Israel and beyond. Magnificently hand crafted, the atzei chaim is made from solid wood, embellished with burned-in designs and finished with a high quality stain to enhance the beauty of the natural wood. Browse a unique selection of atzei chaim crafted from .925 sterling silver over a solid wood core. Eternalize the memory of a loved one by engraving a dedication directly on the silver Torah plates or brass inner rings for the wooden plates.
How to Measure your Atzei Chaim - Torah Rollers
Measuring from the Torah scroll (Parchment)
For the length, measure from the top to the bottom of the Torah scroll, or parchment in centimeters or inches.
For the width, measure the diameter of the scroll in centimeters or inches.

Atzei Chaim - Torah Rollers
The Atzei Chaim - "Trees of Life", is the Hebrew term for the wooden rollers to which the Torah scroll is attached. The term is based on the verse "A tree of life to those who grasp it". The ends of the Torah rollers, which protrude beyond the Torah scroll, serve as handles for lifting and rolling it to the appropriate section to be read.

The Torah rollers may come with magnificent combination of silver and wood, decorated with .925 sterling silver embellishments, on beautifully finished handcrafted solid wood plates. The Etzei Chaim is assembled with double interlocking rollers and a Torah guard to protect the Torah scroll. The poles are made approximately 2" taller than the scroll, in order to allow easy rolling of the Torah.

Be sure to check out our amazing selection of Parochet & Ark Curtains, Torah covers & mantles, Bima & Amud Covers and Bein Gavras (flat Torah cover between readings) for a stunning synagogue decor!

Thinking of dedicating a Torah scroll? You are in the right place! At Judaica Embroidery, we will find the perfect Torah scroll to fit your quality and budget, whether it is for Ashkenas or Sephardic use, from miniature scrolls to full size Torah scrolls. Contact us now and we will be happy to assist you in guiding through the Torah project.

Adorn the spiritual splendor, the Torah, with our unique selection of Silver Torah Ornaments which includes Torah breastplates, Torah crowns, Rimonim and Yad Pointers, to complete the look!