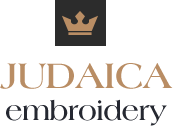 Related Products Reviews
Torah Binder Gartel w/Velcro TBG-V

Got it today - they look wonderful -thanks

Got it today - they look wonderful -thanks

Torah Binder - Torah Gartle
After the Torah is rolled up tightly, it is encircled and secured by a binder, a long strip of cloth called a Torah binder, or gartle. The Torah binder consists of velvet material with elastic in the inside, typically fastened with a velcro or buckle closure. The Torah gartle comes in various colors matching the Torah cover, or Torah mantle, and can have a dedication or inscription in gold or silver.

Check out our amazing selection of Torah covers & mantles and ark curtains here.

Adorn the spiritual splendor, the Torah, with our unique selection of silver Torah ornaments to complete the look!